The Benefits of Life-Long Sports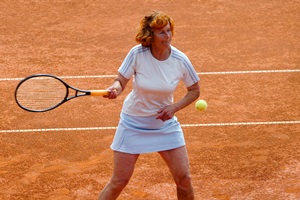 Not only can playing sports at any age help you maintain your strength, stamina, balance, flexibility and coordination, the benefits are actually cumulative over time. That means the more adults participate in sports throughout their lifetime, the more they will benefit as they reach the age where joint problems and declining energy become a problem. For people to enjoy the most benefit, they should begin to consciously "ramp-up" their physical activity in early adulthood to support the continuation of active leisure time activities throughout later phases of life.
Playing sports into mid-life allows adults to maintain physical capabilities that will help reduce their risk of developing age-related problems that are often tied to inactivity, including heart disease, colon cancer, stroke and diabetes. In addition, sports burn calories and help prevent weight gain as metabolism slows as part of the aging process. Sustaining their physical health through middle age and into their senior years will allow them to continue participating in more of the activities they enjoy and to maintain their independence longer. Not only will staying active help them enjoy better health, it will also improve their longevity.
Sports Participation Increases Energy, Improves the 3Ms
Most of us recognize that exercising actually increases our general energy levels. This is true at any age, including 50 and beyond. But did you know that it also improves the 3Ms—memory, mood and mind? Participating in sports helps adults stay motivated and provides a release from stress. Many also enjoy the chance to compete against other athletes in their age bracket. Benefits are important to both men and women in the over 50 category.
Popular Sports for Older Adults
Obviously, most older adults are not going to jump into sports like tackle football, rugby, lacrosse or ice hockey, but there are a large number of sports that will help them strengthen muscles, build stamina and maintain their balance, flexibility and coordination. Many of these also offer great opportunities for social interaction and will help seniors feel better all the way around.
Increases stamina and strengthens legs. Can also encourage core strength and flexibility.
Enhances breathing, improves bone density, reduces body fat and maintains reaction time.
Not a physically demanding sport, and well-suited for those who are not in the best physical shape. Sharpens hand-eye coordination and offers mental and social benefits.
Increases energy and stamina with minimal risk of muscle and joint injury. Increases flexibility and tones muscles, offers aerobic exercise for improved heart health and may reduce the risk of osteoporosis.
Improves coordination, balance and can improve mobility.
Although the greatest benefits from playing sports occur in those who have continued to engage in sports activity throughout their lives, it is never too late to learn a new sport and enjoy the physical and mental benefits they can provide.