Inspiring Weight Loss Story!
Inspiring Weight Loss Story!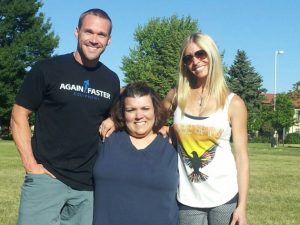 Extreme Makeover features a celebrity trainer helping very overweight individuals reach their weight loss goals. Sometimes, their attitudes aren't great, but other times, the people on the show are truly amazing, like Sara. Sara is a little person, standing at only 4'5″. She was a nutrition speaker on local television shows at the start of her journey, but ashamed of herself. Not only had she spent her life dealing with her short stature, but she had suffered greatly at the hands of her sister. She turned to eating and by the time she was 37 years old, weighed over 200 pounds.
When she began her time on Extreme Makeover, her first challenge was to climb the stairs of an amphitheater holding an 80 pound weight. The stairs came up past her knees. But she didn't complain once. She kept going. Slowly, all the people in the theater started to watch her. By the time she reached the last step, the crowd cheered for her.
Her trainer gave her the goal to run a half marathon 6 months after starting her diet and exercise program. Sara said no. She wouldn't run the half. Instead she would run a full marathon. Her trainer advised against it because it would be extra hard on her body. She'd have to take many extra strides due to her short stature. Sara didn't care. She ran the whole marathon.
She succeeded in loosing more than half her body weight and becoming a runner, like she had always dreamed.
If you would like to follow Sara's example and lose weight and begin your inspirational journey of change, be sure to contact our office to get the details on our ChiroThin diet. It is doctor supervised and is amazing in its ability to not only help you lose weight but also learn new and healthier eating habits! What a win/win! Office phone number: 406-652-3553.
Story is shared from the following website: https://www.livin3.com/5-motivational-and-inspiring-short-stories