Healthy Lifestyle Choices Are a Team Effort for Couples
Healthy Lifestyle Choices Are a Team Effort for Couples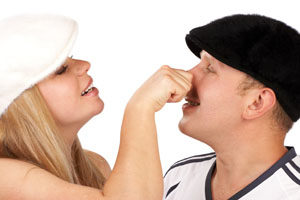 These days, with divorce statistics skyrocketing, it's easy to focus on the "for worse" part of the traditional marriage vow. But the simple fact remains that a good marriage—or a healthy long-term relationship of any kind—brings lots of benefits to both partners. So we thought it would be a good idea to remind our readers about the "for better" aspects of marriage—particularly as they related to health and well-being.
As sociologist Linda Waite puts it, "Marriage is sort of like a life preserver or a seat belt. We can put it in exactly the same category as eating a good diet, getting exercise, and not smoking." Your relationship can provide an opportunity for partnership in more areas than sharing finances and raising children. You and your partner can work together to improve each other's health and state of well-being. Here are a few tips from health experts to help you do this.
Exercise together. When couples meet, chances are each of them has his or her own regular exercise regimen. And chances are they involve different forms of exercise. Just as an example, she may prefer aerobics or running, while he prefers sports like golf and tennis. Well, here is an opportunity to "cross-pollinate" and for couples to try each other's exercise regimens from time to time. Naturally, working out together also tends to keep both parties exercising regularly, because you're doing it as a team, not on your own. If it's looking a little chilly outside, you might be tempted to skip your evening run if it's just you, but if you know that your partner is counting on going with you, you might just go anyway.
Learn from each other's food preferences. Some studies have shown that in traditional marriages, men tend to eat better after marriage than before. This may be due to the fact that men typically haven't been taught to cook in the home as young boys in the same way that girls traditionally have (though there are abundant signs that girls and young women now share men's unfamiliarity with the kitchen). So eating—whether at home or at a restaurant—can become an exercise in learning from your partner's tastes, and possibly expanding your own. Think you hate broccoli? Well, that was before you tasted your spouse's recipe for it, right? Eat too many salty or sugary snacks while watching TV? That was before your partner shared their recipe for veggie snacks with the cucumber-coriander dip. As a general tip, health experts say you should look carefully at your partner's food choices and follow the lead of the person with the healthier diet.
Lose weight together. Just as your relationship provides an opportunity to inspire each other when it comes to exercise, it can also be a godsend when one or both of you needs to drop a few pounds. Agree on your mutual weight loss goals, and then go shopping together, and stock your kitchen only with foods that support those goals. Whether you're trying to cut down on sugar, fat, salt, or other foods that help to keep weight on, working together to stick to a healthier diet can be a lot easier than doing it on your own.
Don't forget the V word. Vacations. Many men—and increasing numbers of women—find themselves in the work rut and fail to find time on the calendar for vacations. Then they wonder why they get sick or find themselves depressed. Planning a vacation together gives both parties the opportunity to figure out just which destinations and activities best suit their preferences and their health goals. Going on these vacations works magic; in one study of 12,000 men, those who took yearly vacations had a significantly lower risk of death than those who did not.
Learn things together. Many studies are proving the wisdom of "use it or lose it" with regard to brain health. And one of the proven ways of "using" your brain and thus keeping it free from cognitive degeneration and Alzheimer's is to keep learning. Again, this is easier as a team than on one's own. We all know how easy it is to veg out in front of a TV alone, but if you've signed up for a language course or have joined the same weekly book club as your partner, you're more likely to actually keep learning.
Go to bed together. No, we don't necessarily mean "go to bed and have sex" together, although that's good for your mutual health, too. Instead, studies have shown that couples who have similar sleep schedules are healthier and have fewer incidences of common diseases. Chronic sleep deprivation is becoming a national public health issue, so if you can work out compatible sleep schedules with your partner, chances are it'll make both of you healthier.
Laugh a lot. Let's face it…how many of us laugh out loud when we're alone? Do it too much, and people might even begin to think you're weird. But if you're like most people, one of the reasons you chose your partner is because he or she makes you laugh. There have been numerous studies that have shown that the more genuine laughs you have per day, the healthier your probably are. So keep amusing each other, and keep laughing at each other's jokes. It might just provide the mechanism for laughing together for the next fifty or more years, and what's not to like about that?