The Most Dangerous Jobs: A Chiropractic Perspective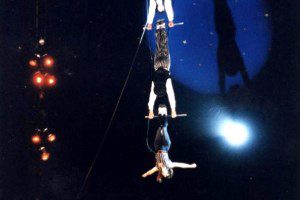 It's no secret that some jobs are just more physically demanding and more dangerous than others. Some of the most challenging ones are obvious—combat roles in the military, fire and rescue, heavy construction and deep sea fishing are just a few that come to mind. However, when it comes to non-fatal musculoskeletal injuries, the statistics tell a very different story about occupational health and safety and about who's most likely to get hurt on the job.
Because chiropractic physicians are experts in treating conditions that involve the musculoskeletal and nervous systems (including many common workplace injuries), we have a unique perspective on why they happen, how they can  be prevented and the best ways to treat them.
Musculoskeletal Disorders by the Numbers
Let's start with a long-term trend that's good news for the nation's workers but that doesn't get much media attention. The number of reportable occupational injuries and illnesses has declined steadily across the past decade from 50 cases per 1,000 full-time workers in 2003 to 33 cases in 2013. So progress is clearly being made, even if it doesn't grab the headlines.
That said, musculoskeletal injuries continue to be among the most common on-the-job injuries, and they can require significant recuperation time. The Bureau of Labor Statistics (BLS) says that musculoskeletal disorders (MSD) "are injuries or illnesses affecting the connective tissues of the body such as muscles, nerves, tendons, joints, cartilage, or spinal disks."
A very high percentage—about one-third—of 2013 workplace injury and illness cases that required days off from work involved the musculoskeletal system.  Plus, workers who sustained musculoskeletal injuries required more time to recover before returning to work—a median of 11 days to recuperate compared with 8 days for all types of workplace injury and illness cases. In 2011:
The back was the primary site of MSD injuries in 42% of all cases across all occupations, requiring a median time off of 7 days to recuperate.
Although it accounts for only 13% of all MSDs, the shoulder was the area with the most severe injuries, requiring a median of 21 days off of work to recuperate.
Injuries and illnesses due to repetitive motion involving "micro-tasks" (such as typing) accounted for only 3% of all occupational injury and illness cases. However, those workers with this kind of injury required nearly 3 times as many days away from work to recover as those with all other types of injuries and illnesses—a median of 23 days.
As we mentioned earlier, though, MSDs are not distributed evenly across all industries and occupations.
In 2013, the highest MSD incident rates were found in transportation and warehousing (80.3 cases per 10,000 full-time workers), healthcare and social assistance (50.2 cases per 10,000 full-time workers), arts, entertainment and recreation (46.5 cases per 10,000 full-time workers) and construction (41.9 cases per 10,000 full-time workers).
In 2011, six occupations accounted for 26% of all MSD cases: nursing assistants, laborers, janitors and cleaners, heavy and tractor-trailer truck drivers, registered nurses and stock clerks.
In 2011, those with the greatest number of median days spent off from work in order to recuperate from an MSD were heavy and tractor-trailer truck drivers (21 days).
So it's clear from the numbers that the dangerous jobs featured on reality TV shows (think about Deadliest Catch and Ice Road Truckers) aren't necessarily the ones that result in the most MSD-related visits to the chiropractor or general practitioner.
The Role of Chiropractic Care in Prevention and Treatment
Over the past several years, companies of all sizes have become increasingly interested in occupational health and wellness programs. Chiropractic physicians have a special interest in working with employees and business managers alike to help prevent job-related injuries and to encourage a healthy, productive work environment. If you'd like to learn more, we encourage you to call or visit our office today.
Chiropractic care can be one of the most effective ways to treat musculoskeletal pain and accelerate recovery.  Dr. Oblander has the training and experience necessary to successfully diagnose and treat a wide range of workplace injuries, and he'll be happy to answer any questions you may have! So if you or someone you care about has recently been hurt on the job, please give us a call at 406-652-3553 or stop by either of our Billings chiropractic offices. We have an office located at 3307 Grand Avenue and an office at 410 Wicks Lane in the Heights  and we're here to help!
Save
Save
Save