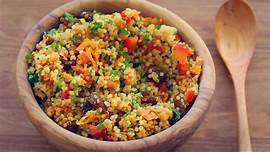 A Healthy Side Dish for Dinner Tonight!
Ingredients
1 3/4 cup water
3/4 cup quinoa
1 Tablespoon plus 1 teaspoon olive oil, divided
1 red bell pepper, seeds removed, chopped
2 scallions, sliced thin
2 teaspoons white wine vinegar
sea salt and ground pepper to tasted
Instructions
Combine water and quinoa in medium sauce pan, bring to boil.
Reduce heat, cover and simmer until tender, about 15 minutes.
Drain and place in mixing bowl.
Heat 1 teaspoon olive oil in small skillet over medium heat. Add bell pepper and scallions and cook until softened, about 3 minutes. Add to quinoa, along with white wine vinegar and remaining oil. Stir to combine. Season with salt and pepper to taste.
http://chiroaddict.com/a-healthy-side-dish-for-dinner-tonight/