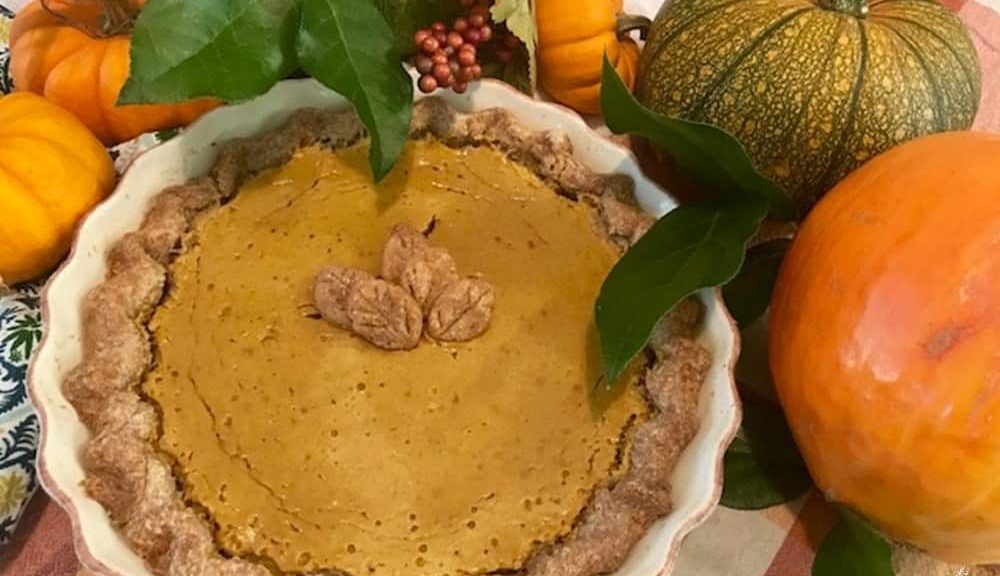 A Healthy Pumpkin Pie Recipe!
Ingredients
For the pastry:
1½ cups whole grain einkorn flour, whole wheat pastry flour, or other whole grain, finely milled flour of your choice
½ teaspoon salt
3 oz. (6 tablespoons) butter, cut into ½-inch squares and frozen
2½ oz. (5 tablespoons) lard, cut into ½-inch squares and frozen (or replace with more butter if you prefer an all butter crust)
2 tablespoons ice water
For the pumpkin custard:
2 cups pumpkin puree (follow instructions for roasting pumpkin below, or use canned 100 percent pumpkin puree)
1¼ cups heavy cream or coconut milk
2–8 tablespoons maple syrup (sweeten to taste)
½ teaspoon salt
1 teaspoon cinnamon
1 teaspoon ground ginger
½ teaspoon nutmeg
⅛ teaspoon ground cloves
⅛ teaspoon allspice
2 large eggs
1 large egg yolk
If roasting pumpkin: Cut baby pumpkin in half. Scoop out seeds and bake at 375°F until soft, about 30–60 minutes, depending on size. Let cool, then scoop out flesh and mash before proceeding with recipe.
Instructions
Prepare pastry: Place flour and salt in the bowl of a food processor (or bowl, if making by hand). Add chopped, frozen butter and lard to flour and pulse to combine (or incorporate with cold hands or a pastry blender), until mixture resembles large peas. Add water a little at a time until pastry just starts to come together in a ball. Dump onto counter and shape into a ball, then flatten into a disk about ½-inch thick. Wrap pastry. Allow to rest and chill in refrigerator for at least 45 minutes before using.
Prepare crust: Dust countertop with a little flour and roll out pastry to fit a 9-inch deep dish pie pan. Fit pastry into pie pan and trim edges, then crimp to form a border. Set aside in fridge to chill while you finish the custard. (You can save the trimmings to make decorative leaves or other garnishes if you like.)
Prepare custard: Place pumpkin, cream or coconut milk, maple syrup (start lower, you can always add more to taste), salt, and spices in a blender. Blend until completely smooth, about 1 minute. Taste for sweetness and adjust as necessary. Once sweetened to your liking, add eggs and egg yolk and blend until smooth.
Bake pie: Preheat oven to 350°F. Pour pumpkin custard into prepared pie shell and place in center rack of oven. Bake until pie is just set, with a slight jiggle in the center, about 45 minutes to an hour. Remove from oven and let cool on rack to at least room temperature before serving. Slice or refrigerate until ready to serve.
Notes
Recipe notes: All in all, pumpkin pie isn't really difficult to make, but I've found a couple of secrets that ensure success:
Use roasted pumpkin flesh from baby pie pumpkins. In my experience, taking the time to roast the pumpkin yourself results in a deeper flavor and superior texture. Canned, 100 percent pumpkin puree works in a pinch, but make sure you don't accidentally get pumpkin pie puree, which contains added sugars.
Make the custard in a blender. I find that incorporating the extra air into the custard gives it a more silken mouth-feel.
Bake the pie until just set. This results in a dense, creamy texture and limits the chance for cracks. (But if it does crack, not to worry, it'll still taste great!)
http://chiroaddict.com/a-healthy-pumpkin-pie-recipe/